Lighting Controllers
DMX Lighting Controller "smart" Series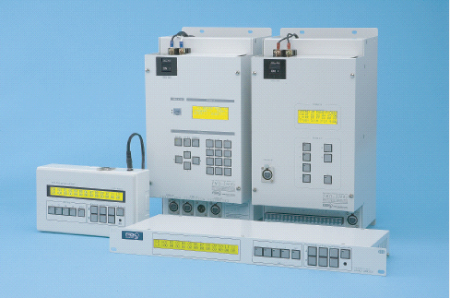 Professional light controllers suitable for amusement parks, shows, etc. Plays a programmable sequence of lighting control using DMX/SMPTE signals, synchronizing with third-party equipment. Various options such as battery-powered, wireless networking may realize a stage effects of large scale.
"The ""SUU:"" Series
for home and compact facililties"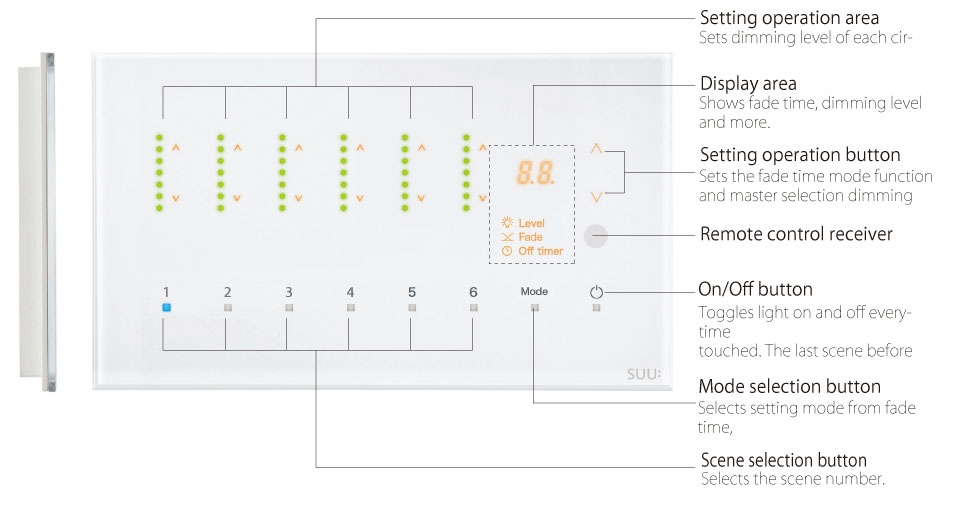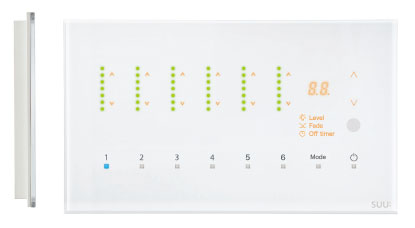 Setting operation area
Sets dimming level of each circuits.
Display area
Shows fade time, dimming level
and more.
Setting operation button
Sets the fade time mode function and master selection dimming level.
Remote control receiver
On/Off button
Toggles light on and off everytime
touched. The last scene before you
turned off will be set when turned on.
Mode selection button
Selects setting mode from fade time,
dimming level, load type, etc.
Scene selection button
Selects the scene number.
Controls multiple lights in one touch. Compact and modern design fits in every lighting space, producing a rich and high-quality dimming light.
With a combination of optional units supported, this dimmer system will cover wide range of
light control needs in home and business at any capacity and a number of circuits required.
Unit Combination Example
■ Network device
nstall the app and control such as scene setting by mobile terminal.

■ Remote control
Combination of master unit and portable wireless remote
control unit. Scene and dimming operation can be controlled
remotely.

■ Control from mutiple locations
◯Scene selector unit
Useful when there are two or more entrances.

■ Linking parent units
Connect two parent unit by a transmission signal line to increase the number of circuits.

Model Name
Loading Capacity
Control Method
Dimming Method
Number of Circuits
Other Features

smartCUE

DMX Controllers

FMPC-1024SD/1U
–
DMX512
–
1024ch
・SMPTE signal recoding
・DMX playback (CUE / Record)
・SD memory card data storage
・Programming/editing by an original editor software
FMPC-1024SD/CT
–
DMX512
–
1024ch
・SMPTE signal recoding
・DMX playback (CUE / Record)
・SD memory card data storage
・Programming/editing by an original editor software
FMPC-300LT
–
DMX512
–
30ch
・Flicker Controller
・8 patterns, 100 steps programmable
・Programming/editing by an original editor software
FMU-9600
–
DMX512
–
96ch
・DMX scene controller
・4 scenes storage
・Two units can be combined
・Grouping
・Programming/editing by an original editor software
FMU-1800WW/WB
–
DMX512
–
180ch
・DMX scene & area controller
・6 scenes/6 areas storage
・6 patterns store/recall with any combination
・180 channels with single area, or 30 channels each with 6 areas

DMX Control Modules
(for control box)

FDM-1501DC
15A
DMX512
PWM
1ch
・Dimming curve for LED lights
・Supports common hot type loads
FDM-0503DC
5A per circuit
DMX512
PWM
3ch
・Dimming curve for LED lights
・Supports common hot type loads
FDM-0709DC
700mA per circuit
DMX512
PWM
9ch
・Dimming curve for LED lights
・Supports common hot type loads
FDU-800LED/dmx
800VA
DMX512
Phase Cut
1ch
・Selectable dimming curves (3 patterns)
・ 2 types by power input direction (right or left side)
FDU-800PWM/dmx
800VA
DMX512
PWM note1
1ch
・Selectable dimming curves (3 patterns)
・ 2 types by power input direction (right or left side)
FDU-0204P
19.2W(4ch total)
DMX512
PWM
4ch
・Start address set by code switch
・Built-in test pattern autoplay by dip switch
・DMX line termination by dip switch

Other Products

FRFN-920A
–
–
–
–
・920MHz wireless networking unit
・Frame rate (24/25/30 fps) auto detect or fixed
・Lost frame adjustment by specifying frame rate
・Frame adjustment when wireless receiver loss
・Preset frequency search by wireless receiving signal level
・50kbps transmission speed
・20mW maximum transmission power
・Transmission range over 1200m sight distance
・Bidirectional diversity transmission
FRFN-920B
–
–
–
–
・920MHz wireless networking unit
・Frame rate (24/25/30 fps) auto detect or fixed
・Lost frame adjustment by specifying frame rate
・Frame adjustment when wireless receiver lossv
・Preset frequency search by wireless receiving signal level
・50kbps transmission speed
・20mW maximum transmission power
・Transmission range over 1200m sight distance
・Bidirectional diversity transmission
FDIO-0108ci

0.5A per circuit
2A total
DMX512
–
8ch
・Convert DMX to contact signal output
・Dry contact or DC24V output
FDIO-0108co

0.5A per circuit
2A total
DMX512
–
8ch
・Convert contact input to DMX signal
・Output DMX signal
FDIO-1016D
Mechanical relay type
(150VAC/DC1A)
Solid state relay type
(DC12/24V 125W)
DMX512
–
16ch
・DMX digital output unit
・ON/OFF control of digital output port of DMX address assigned
・Sectable output types from mechanical relay and solid state relay
FDIO-1032D
Mechanical relay type
(150VAC/DC1A)
Solid state relay type
(DC12/24V 125W)
DMX512
–
32ch
・DMX digital output unit
・ON/OFF control of digital output port of DMX address assigned
・Sectable output types from mechanical relay and solid state relay
FAIO-1032D
75mA(circuit capacity)
DMX512
–
32ch
・DMX analog output unit
・32 analog ports

SUU:

FMD-0408
750VA
–
Phase Cut
PWM
4ch
・External input and wifi control optionally supported
・Stores 8 scenes
・Load type selectable from phase cut and PWM at circuit #3 and 4
・Fits in JIS 2 socket size metal box with cover
FMD-0408D
750VA

Has DMX512 port
Phase Cut
PWM
4ch
・Stores 8 scenes
・Load type selectable from phase cut and PWM at circuit #3 and 4

・Fits in JIS 2 socket size metal box with cover
FMD-0404WW/WB
1200VA(total)
/450VA(per circuit)
–
Phase Cut
0-10VDC
4ch
– Scene controller supporting 4 channel / 4 scenes
– Wide power supply voltage (100-240V)
FMD-0606WW/WB
1200VA(total)
/450VA(per circuit)
–
Phase Cut
0-10VDC
6ch
– Scene controller supporting 6 channel / 6 scenes
– Wide power supply voltage (100-240V)
DP-37987
–
–
–
–
– 4 scene selector optional unit
FWS-8S
–
–
–
–
– 8 scene selector optional unit
FWS-8C
–
–
–
–
– single circuit on/off selector optional unit for 8 circuits
FCI-0008
–
–
–
–
– 4 contact input optional unit
FDU-800L
800VA
–
位相
1ch
– Power booster (8A power supply with phase cut dimming control)
FDU-800PWM
800VA
–
PWM
1ch
– Power booster (8A power supply with PWM dimming control)
FDU-800LW
800VA
–
位相
1ch
– Power booster (8A power supply with phase cut dimming control)
FCR-0004
–
–
–
–
– 4 scenes remote controller
FCR-0006
–
–
–
–
– 6 scenes remote controller
FWS-4SW/SB
–
–
–
–
– 4 scene selector optional unit
FWS-6SW/SB
–
–
–
–
– 6 scene selector optional unit
FWI
–
–
–
–
– Wifi networking optional unit
FWI-W/B
–
–
–
–
– Wifi networking optional unit
FWI-SW
–
–
–
–
– Wifi networking software for FWI-W/B